Everyday Flowers
No matter the occasion, flowers are always a great idea! Our boutique holds a wide selection of fresh flowers, dried elements, plants, vases and pots, as well as greeting cards. Our flower selection is hand picked weekly by our team of experienced florists, in order to offer you the best quality products. We take special care to choose when possible locally grown blooms from Quebec and/or Canada. You can place your order online, 24/7 or by calling us at 514-277-3042, or by emailing us at [email protected].
Order flowers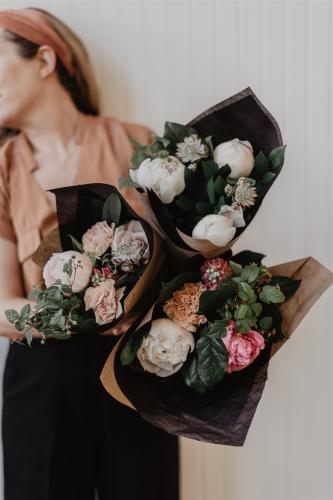 Flower subscriptions
Astilbe offers the service for standing flower orders to come to your home on a flexible but regular schedule. The way to make this magic happen is simple. Let us know your budget, the style you prefer, and the frequency that you would like to receive your flowers, and we will deliver your beautiful flowers to your doorstep at the agreed upon times. The bouquets or arrangements will vary from week to week, depending on what elements are most fresh and available at that time. The one thing is certain, is that we guarantee high quality flowers and a healthy dose of beautiful blooms! You may choose weekly bi-weekly, or à la carte subscription. Pricing begins at 25$ a week. This is a wonderful way to flower your space, add a touch of color, and to bring nature indoors. It is also a great gift for the flower enthusiast in your life!
Get a subscription
Corporate Subscription
Flowers and plants are a great way to enhance the décor of any business space. We offer the service for standing flower orders to be delivered weekly or bi-weekly, for boutiques, hotels, restaurants, offices, and spas in the Montreal area. We offer our first consultations for free, in order to discuss your business needs and unique design elements. We provide you with regular fresh flowers that are beautiful and appropriate for your environment and your branding. Flowers and plants are also a great idea as corporate gifts for your clients, suppliers, and/or employees. Feel free to contact us for more information or to subscribe for your corporate account today.
Get a quote